Irina M. Magdul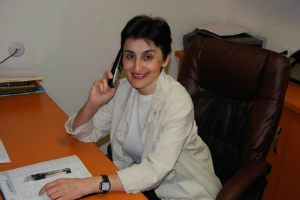 L.Ac, M.S. (Russia, M.D.)

Tel. 718-997-9735
Cell 718-749-2171

96-09 66 Ave. Apt. 1C
Rego Park, NY 11374




Irina Magdul has been working as an Acupuncturist for more than 20 years. Originally from Russia, Irina has worked as a doctor of Neurology, Acupuncture & Psychotherapy.
Bio:
When Irina came to America, Irina pursued a career as an Acupuncturist finishing college and receiving her Masters Degree in Acupuncture Science.
From 2003, Irina has had her private practice in Forest Hills, NYC. In beginning of 2010, she has opened up her own practice where she can provide the best possible services to help people with different health conditions.
-Attended Medical School 1979-1985 (Russia)
-Doctor of Neurology, Acupuncture and Psychotherapy 1987 (Russia)
-License of acupuncturist and masters degree in Acupuncture Science from New York College of Traditional Chinese Medicine (1998-2002)
Acupuncture is an important part of Traditional Chinese Medicine. For the past 20 years Irina Magdul has taken upon a noble career to a path in helping others regain their health and enjoy a better quality of life.
Irina had spent many years working as a Medical Doctor in Russia. (Neurology, Acupuncture, and Psychotherapy) She earned her masters degree in acupuncture science in NYCTCM, Long Island NY. Her combined knowledge of Eastern and Western Medicine allowed her to successfully treat a large number of patients with all sorts of different symptoms and conditions.
There are many different effective methods in Chinese medicine that Irina uses in her practice, some of which are: skilled needle technique, cupping and cupping massage, laser treatment, auricular therapy, magnetic therapy, moxibustion and homeopathic pills as well as homeopathic injections. These methods help patients restore their health and relieve stress naturally with no side effects.
Over the course of Irinas practice she has gained a large number of dedicated and continued patients who trust her for all of their health needs. Her close relationship with patients has also provided a large number of referrals during the development of her successful practice. Each patient has her full and complete attention during and after treatment(s). She has created a warm and cozy environment where they can rest and regain their strength back to health.
What sets me apart from any other acupuncturist in town? It all began over 20 years ago when I was first reading about eastern medicinal ways back in Russia. I ventured to begin learning and practicing the interesting ways of the Chinese and vowed to perfect it. Starting off I was working in a hospital practicing neurology and psychotherapy, it was always a wonderful peace at mind and heart knowing that you have cured someone back to a healthy life; however, at many times western practices and medicines had several side effects to many treatments and/or medications. I wanted more out of my treatments and more so I wanted to offer my patients more. How can I treat them without any side effects whatsoever? Well, acupuncture was my answer and my peace at mind. As soon as I was fully knowledgeable and ready I began offering my patients alternative treatments for their problems. I was stunned at my success rate and my patients quick and painless recovery. Suddenly my patients had doubled as the word spread around town that I was offering treatments that had no side effects and offered all natural healing processes. What more can a doctor ask for than a cured patient? My biggest dream had come to life and I was living proof of it.
When my family and I made the move to America I was ready for a new and challenging journey. I began studying all of my material yet again so that I can start my own practice of Acupuncture here in America. After graduating with a masters in Acupuncture and finally receiving all my proper licenses to practice I started from scratch yet again. I now have a successful practice and countless amounts of patients daily. Even those patients who migrated to the country as I did began visiting me for necessary treatments yet again and sending referrals to those in need. I never thought that I would have such a satisfaction in a practice as I have with acupuncture. It has helped me build my confidence in healing more than I could ever imagine, a better confidence in myself and with my patients. I do what I do with passion and love, it is more of a way of life rather than a business. All of my skills acquired from knowledge of western and eastern ways have made me the person I am today and I am living proof of healing hands. There is no greater satisfaction then hearing 'thank you' as often as I do and knowing that I have healed and will continue to do so until I cannot any longer.
Come visit me for all your health related problems and become part of my journey of success...
Our Location: Irina has created a warm and cozy environment where all her patients can always rest and regain their strength back to health.